I want to get one thing out there prior to the rest of this article, if you let your kid watch Caillou you are a bad parent and should be punished by the Judicial system.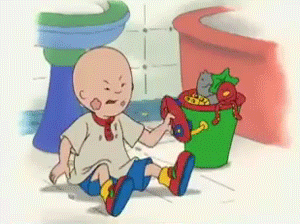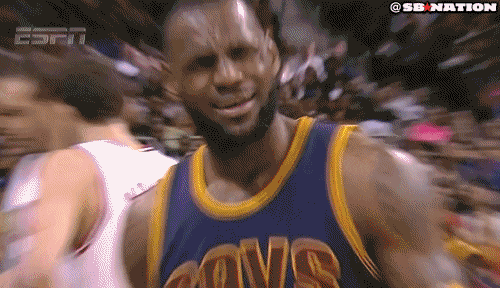 Caillou for those who have been luckily enough never to watch, gets hurt and complains about everything and I mean everything. No one is worse than him, except for one person…
Lebron has been beaten and battered worse than NFL lineman in his 14 years in the NBA. Nobody fights harder for loose balls, bodying in the paint, hustling back court and no one plays more minutes than this guy. Alright enough jokes let's get down to business. LJ the King learned that there was no chance of winning this series against Golden State after the 1st quarter in Game 1. What does Lebron do after Game 1?
He immediately goes home to his drawing board and maps out a way to locate an excuse for losing this series. He thinks of all sorts of shit from racist slurs scaring his family so he wasn't in the right mindset to play; to missing his hair transplant appointments which made him superstitious. But no, he reverts back to the plan that has worked his whole career so why think of something new now. Fake an injury! As long as he makes it look bad everyone will believe him and if they lose everyone will still buy his products and bubble gum because he didn't do anything wrong, injuries just happen! And Hey it's just basketball. Lebron needs to cut with the excuses and win championships, case closed. Yes he has won championships with multiple teams but he is expected to!
Michael Friggin Jordan wills himself to 38 points against the Utah Jazz in a pivotal Game 5, adding to the Bulls star's legend as a clutch performer and relentless competitor. Lebron does not compare people so let's stop saying that.
I love Tom Brady more than anyone but when he said he'd love Lebron at tight end because of his size I always giggle because Lebron is good for one snap until he realizes it's not basketball and it hurts being touched. Oh but Lebron's 32 he's going to be injury prone at that age. Well then, Tim Duncan and Tom Brady must be made of metal.
Lebron has let his "loyal" bandwagon fans down, this Warrior's team is amazing yes but you're supposed to be the greatest thing to ever touch a basketball you can't let your team lose like this, possibly get swept and then fake another injury! Cavs are now down 3 games to none, no comeback will occur period.
C'mon Man.