UFC has seen its fair share of decent matches this year. 2017 Pay Per Views have played host to absolute prelim brawls and beat-downs with great headliners and second attempt fights:
Rodriguez V. Penn    (Rodriguez def. Penn 2nd Rnd, 0:24 KO/TKO)
The Korean Zombie V. Bermudez     (Jung def. Bermudez 1st Rnd, 2:49 KO/TKO)
Woodley V. Thompson Round 2    (Woodley def. Thompson5th Rnd, 5:00 MajorityDraw)
&   Cormier V. Johnson Round 2.  (Cormier def. Johnson 2nd Rnd, 3:37 (Submission)
But the UFC Is missing something. Something that we haven't seen since November 16th, 2016. Something that we've only heard in speculation these past 6 months.       That Something is :
Conor
"The Notorious"
McGregor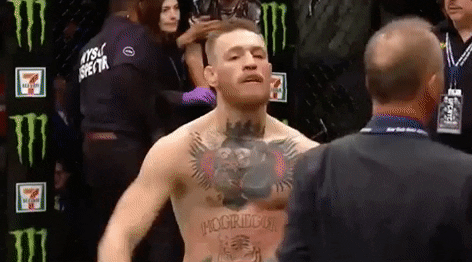 The South Paw champion is missed by all too many in the fighting world. After his November 2nd round TKO victory against Eddie Alvarez for the belt all we've heard about Conor is the boxing speculation against the money man Floyd Mayweather.  The only thing we've seen however is hardcore training videos from both sides and trash talking about contract agreements, money and signatures. With all that bullshit aside the people and the fans of this fighting community want to see McGregor back in the Octagon. As much as the world would love to see these two go at it in a boxing ring, McGregor truly shines in the cage. Fans have been on edge and possibly worried that they might not see this phenomenon of an entertainer back in the octagon for quite some time because of these on-going speculations and with Conor's longtime girlfriend Dee Devlin giving birth to their son, Conor McGregor Jr. (I mean what else would he name his son). Family time is important so fans are worrisome they might have to wait even longer now to see their beloved Irishman back in the cage
Worry no more…
UFC President Dana White has been talking to Conor about 2017. "Conor wants to fight," White said on ESPN. "Conor wants to fight Floyd; Conor wants to fight twice this year, so we'll just have to see how this thing plays out."
McGregor is a mammoth and is hungry for the cash. He will most likely square off with Floyd so they both get that big payout but right now he is looking at his son everyday before training and thinking as every good father should and would, He needs to provide for him and his family. Conor is already rolling in the dough but like I said the money and luxuries is an addiction for him and he wants to keep making more of it and if that means knocking some skulls to do it, I'm sure he's okay with that. Will He fight twice in 2017 before tapping the gloves with Floyd?
You bet ya goddamn arsh he will.