If you caught last nights Game 2  Celtics vs Wizards game; you genuinely caught a miraculous basketball game. I know it must've been tough trying to catch the Sox game prior in hopes you'd watch a bench clearing brawl and a stellar Sale performance but if you watched this Celtics game at all,you got a glimpse of what Celtics fan-hood is all about. If you were a fan last night standing in the concourse waiting for an $8 bag of kettle corn you would've thought the arena was playing a guns & roses concert; place was a jungle. From David Spade to Bill Belichick, all the stars were out aligning the parquet floor.
Celtics started this game a bit better than Game 1 and didn't let up 16 points before getting their first bucket….Thank God. The Wizards were leading for most of this game but I wouldn't necessarily say they were in control. Despite a demanding first quarter by the Wizards tallying 42 points to the Celtics 29, the Celtics kept their cool and began closing the gap until the third. Things were getting a bit testy again between IT and John Wall with counterpart Bradley Beal after IT hit his face on the floor tripping over Gortat that big goof,  of course it happens just after a lengthy dentist visit that kept him out of practice the day prior (luckily he was wearing a mouthguard).
Refs had a few iffy calls but this game goes to the heavenly presence of IT and the technical defense of Avery Bradley. Game was tied 114-114 at the end of regulation after John Wall failed on a game winning attempt. With the energy of the Garden heading into OT The Celtics ran away with it scoring 15 to Washington's 5. IT ended the game with 53 points, making John Havlicek proud but missing his record by 1 point. Hondo scored 54 on April 1, 1973 against the hawks in game 1 of the first round.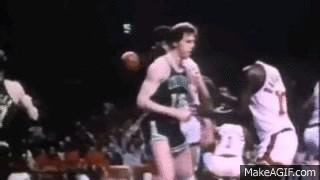 If the Celtics want to win in Washington they can't fall behind early, they won't have the hype of their home crowd along with Lucky's green team to get them rolling when behind. This seems like a long-shot because waiting until the 4th quarter has been their style all year long but let's hope we see improvement earlier in games. IT has proven he can surpass Washington's 2-3 Zone but it'd be nice to see them utilize the pick and roll more often and dish to the outside 3 to boost the movement of the ball; exactly what Rozier and Bradley need to make those shots.  Bradley's defense has been impeccable, if he can attack the ball before it crosses the arc without drawing fouls I think it will make up for IT"s lackluster defense. However IT obviously makes up for his defense with his stellar offensive ability; as long as he keeps hitting the big shots and dishing the ball instead of those forced shots the Celtics on their way to a couple road victories.
Full game re-cap: