After a wonderful 4th of July weekend in the fine city of Boston we all finally survived and even made it to the actual Independence Day on Tuesday. With a day full of beer, BBQ, fireworks, flags, a killer Sox game, Joey Chestnut stuffing his face with hot dogs and of course Gordon Hayward decision day. This decision was long awaited….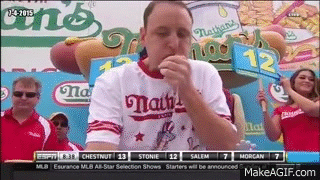 The Celtics finally received the #1 pick in this year's NBA Draft, which we received from Brooklyn back in 2013. This was Trader Danny at his finest- This 2013 trade in which the Celtics sent Pierce, Garnett, and Jason Terry to Brooklyn as the Nets tried to build a star-packed team to rival the Miami Heat. In exchange, along with some role players, the Celtics received the Nets' 2014, 2016, and 2018 first-round picks, with the right to swap picks in 2017, which we did.
First picks for the Celtics have actually panned out to be pretty decent these past few years:
2013 – Kelly Olynyk from Dallas at # 13 (Please just go back to where you're from)
2014 – Marcus Smart at # 6 (Great defense and becoming disciplined)
2015 – Terry Rozier at # 16 (Great shooter from the arc when given a chance)
2016 – Jaylen Brown at #3 (Young Stud)
The story unfolded like this…Finally the Celtics were in the driver's seat for the 2017 draft and Free Agent and trade possibilities were endless. Paul George and Godzilla Porzingas were a couple names brought into the rumor bin. With Paul George on the hook Celtics fans thought this was it, this is what we waited for. Trade the pick for PG, trade the player drafted for PG along with Bradley or Smart, do anything to get PG even as a rental. However the Pacers didn't buy in and now he is on the Thunder. Thunder snagged him from us for Victor Oladipo and second-year forward Domantas Sabonis. Truthfully everyone says Pacers wanted him out of the East and I couldn't agree more. Anywhoo the Celtics traded this first draft pick to Philly for the #3 pick and the 2018 pick with protections. The 2019 first-round pick from the Kings would only go to the Celtics if the 2018 pick does not convey (GM talk). Well the C's drafted Stud offensive Shooting Forward Jayson Tatum from Duke. This was a solid draft pick at #3 and I was not angry about it one bit, especially after his first appearance with the green last night stomping all over the Sixers #1 pick Fultz. Tatum's 21 points came on 8-of-17 shooting. He missed four of the five 3-pointers he took but had a couple of loud finishes, including a thunderous one-handed jam late in the first half that left the crowd oohing after he ripped through a defender to get to the rim. Tatum added seven rebounds, five steals, three assists and one turnover in 33 minutes. However, Celtics fans still wanted answers as to why we couldn't land a veteran free agent or make a deal.
Well…Fireworks started early on the 4th of July. The news broke early Tuesday morning, it was safe to say Hayward and his agent were not pleased.
People were thinking it clearly leaked and they almost knew for certain it was true. But before you knew it the player's tribune article "Thank you Utah" came out stating the facts. He apologized to Utah but that didn't stop Salt Lake from burning his jersey.
In the end –We got him!
Gordon Hayward back with Coach Brad Stevens reminiscing on their Butler days. Hayward is coming off his best season yet avg 21 points per game. Now will this be the deciding factor on beating Cleveland next season? Hard to say, still looking doubtful but we're one step closer…
When these two were back at Butler together they battled adversity, they will be on a mission here in Boston and that is to win—a championship.